Best Practices for Network Management in Lagos, Nigeria
Network Management Best Practices in Lagos, Nigeria: Collaboration between Treten Networks and Netbrain.
Any organization that depends on technology to function must prioritize network management. Effective network administration is becoming more and more necessary as businesses expand and become more sophisticated. We will talk about network management best practices in this blog post with a special emphasis on the collaboration between Treten Networks and Netbrain management is a crucial aspect of any organization that relies on technology to operate. As businesses continue to grow and become more complex, the need for effective network management becomes increasingly important. In this blog post, we will discuss the best practices for network management, with a focus on the partnership between Treten Networks and Netbrain. You can also read top network management challenges and how we solve them effectively.
Partnership between Treten Networks and Netbrain:
Together, Treten Networks and Netbrain can provide our clients with complete network management solutions. Together, Treten Network and Netbrain are able to offer a comprehensive approach to network administration because of our complementary strengths in network security and infrastructure.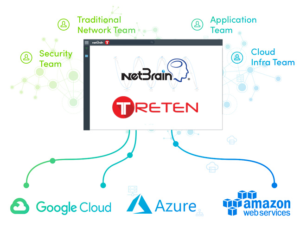 Best Practices for Network Management:
1. Regular Network Monitoring and Maintenance:
Regular monitoring and maintenance are two of network management's most crucial components. This entails keeping an eye on network performance, spotting possible problems, and fixing them before they get out of hand. It's crucial to have a crew in place that can monitor the network continuously and carry out routine maintenance procedures including software updates, vulnerability patches, and network configuration optimization.
2. Implement Network Security Measures:
Any firm should place a high priority on network security, and it's crucial to have the proper security measures in place to guard against online attacks. Intrusion detection and prevention systems, antivirus software, firewalls, and other security measures are examples of this. Additionally, it's critical to inform staff members on correct security procedures, such as the need for strong passwords and the avoidance of dubious emails and websites.
3. Use Network Automation Tools:
Network management may be made easier and the chance of human error decreased with the aid of automation solutions. For instance, the network automation software from Netbrain can automate a variety of common network management chores, such configuring devices and keeping track of performance. This increases network efficiency and decreases downtime while also freeing up IT employees to concentrate on more strategic responsibilities.
4. Have a Disaster Recovery Plan in Place:
It doesn't matter how well-managed a network is—unexpected outage or data loss are always a possibility. Because of this, having a disaster recovery strategy in place is crucial. This should encompass backup and recovery processes as well as an emergency plan for restoring vital data and systems.
5. Regularly Review and Update Network Policies:
It is important to regularly examine network policies to make sure they are relevant and functional. This covers guidelines for network usage, access management, and security. Regular reviews can aid in identifying any potential flaws or gaps in policy and enable any necessary corrections.
Conclusion:
Any firm that depends on technology for its operations must have efficient network administration. Organizations can make sure their networks are secure, dependable, and efficient by adhering to best practices like routine monitoring and maintenance, putting in place network security measures, using automation tools, having a disaster recovery plan in place, and routinely reviewing and updating network policies. Businesses may take use of a comprehensive network management solution that integrates these best practices thanks to the partnership between Treten Networks and Netbrain.
If you're located in the Lagos, Abuja, Nigeria, UAE, the United Kingdom, Canada, Ghana, Cameroon, Rwanda, Ethiopia, or the British Virgin Islands, contact us today to learn more about our network management solutions.